We follow rules and regulations and we may not like or agree with all the rules. Whatever the rules are, there will be an effect which benefits some people at the cost of others. In Leviticus 19, God commanded a rule that took care of the poor that came at a very reasonable cost to the ones who owned land.
And thou shalt not glean thy vineyard, neither shalt thou gather every grape of thy vineyard; thou shalt leave them for the poor and stranger: I am the Lord your God.

Leviticus 19:10
God is Thoughtful and Wise
I love 🧡 how wise God is – this public assistance program allowed for dignity, diligence and compassion.
Those who owned land were told not to harvest their vineyard completely but to leave some aside for the poor and the stranger (foreigner/immigrant) to gather
The poor and stranger had to do the work of gathering
This was built into the system aka a way of how things were done – about 300 years1 later, it was still practised as recorded in the book of Ruth
On a macro level, we debate over the costs and benefits of public assistance programs, including whether welfare leads to dependency. In Leviticus 19, the poor could obtain the charity with work and dignity. Conversely, the people who owned land would be reminded to be compassionate as they actively followed this rule.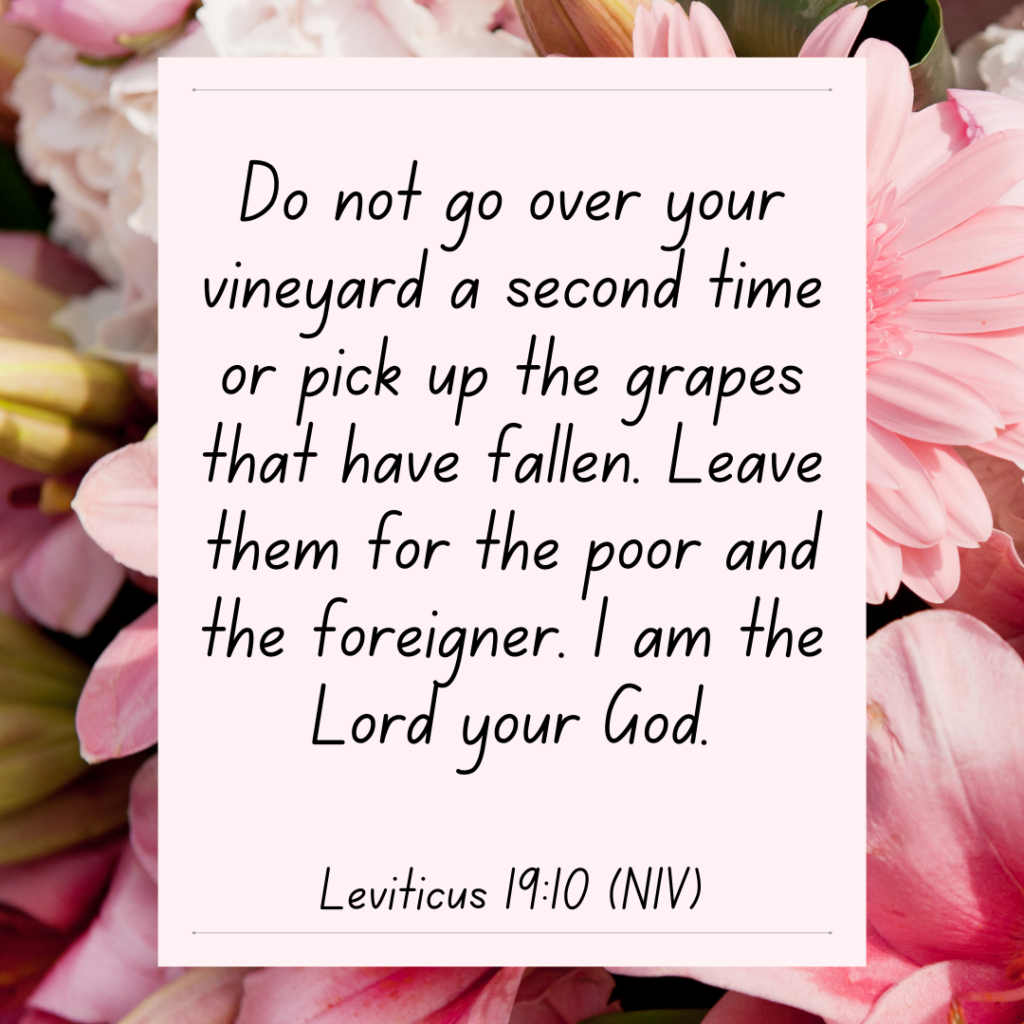 Reading Leviticus 19, I was inspired not to leave giving as an afterthought.
Giving as a Way of Life
Automate our Giving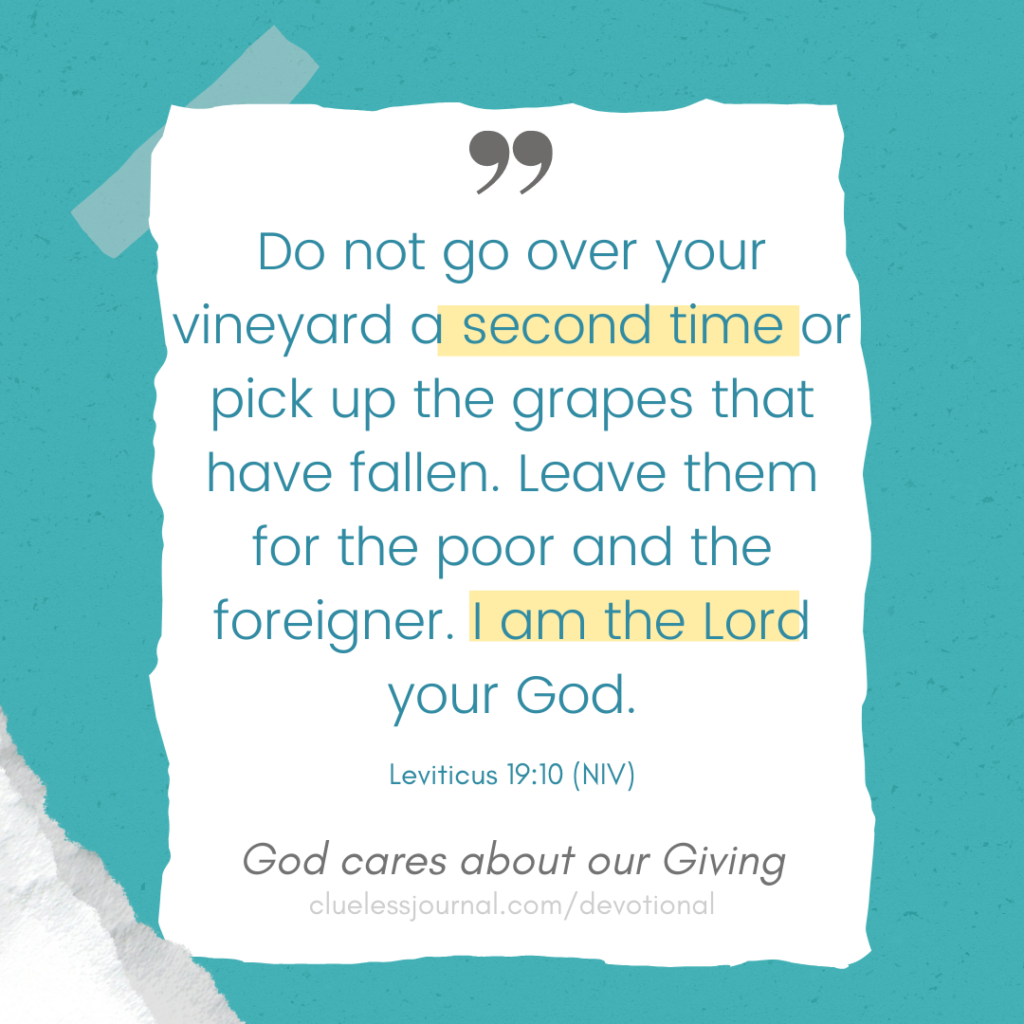 Just like how charity to the poor is integrated into the work, maybe we can explore ways to give as we work. One way I can think of is automating our giving – for instance, committing a monthly amount to a charity or church through a recurring donation. The main thing is to remove the need to decide every month, and don't give ourselves the opportunity to second-guess our giving (because we may be tempted to hold back our giving).
Be Intentional about Loving
To me, giving financially is the easy one to give – it doesn't require our time, our effort, our life, just our money. It is also quantifiable – we can calculate to the exact dollar and percentage how much we are giving. We can automate the giving at the click of a button once we have decided on the amount to give.
Love is not so easy for me. I try in my own silly way to do a checklist on loving spouse & family. Despite our best intentions, we fall short. We are limited by our habits, inhibitions, thought patterns, idiosyncrasy, limited energy and capacity to love. I ask myself:
Is there a way to automate loving just as we automate giving?

Mei aka Clueless
Self-Evaluation of our Intentional Loving
I am not an expert in this, in fact, I'm probably stunted in the emotional department! So I'm just brainstorming & would love 🧡 to hear your ideas in the comments!
Just like we have to first have the money in order to give it, we have to recognize that we are loved before we feel that we have love to give
If we can build love habits into our routine, can we make loving our lifestyle or even our identity?
If we take an inventory of our hours, or of our prayers, or of our thoughts, how much of this comes from a place of 🧡
Just like we set goals for our finances, can we set (even a small, tiny) goal for how much we want to love?
Beloved, let us love one another: for love is of God; and every one that loveth is born of God, and knoweth God.

1 John 4:17 (KJV)
Giving comes from obedience to God
We have to pay attention when something is repeated in the bible – "I am the Lord your God" is repeated 15 times in Leviticus 19. It is a reminder of who is the one commanding these rules, and a reminder to follow these rules. So the next time that I'm tempted to hold back my giving or love, I have to remember that giving and loving is what God desires from His children!
During the week, try journaling about your attitudes to giving and loving. Share your comments as this is an area that we can help each other navigate.
Prioritizing Giving
Leviticus 19 Journaling Prompt
What do you feel about your giving?
How can you make loving more a part of your life?
God, many days I want to give more, love better. Almost on all of those days, I feel like I didn't get it right and on the few days that I thought I got it right, things went horribly wrong. I need You, the God who is love, to teach me.
Books on Giving
I get commissions for purchases made through links in this post.
1 Bible Timeline © 2010 by Rich Valkanet, Discovery Bible and Biblos.com. Biblehub.com https://biblehub.com/timeline/old.htm Accessed 22 Feb 2021.